With demand for air freight services on an upward trend that shows little sign of slowing down, carriers across the globe are looking to expand their air fleets. These companies need fast, safe planes with ample cargo space, and Boeing is hard at work to meet their needs. The new line of Boeing freight planes has the carrying capacity necessary to serve a myriad of carriers and clients. By responding to the latest air cargo news, this leading aerospace manufacturer is meeting every demand increase of the air freight industry, allowing consumers all over the world to get their products in time and intact.
An Overview of Boeing's Latest Freighters
As one of the largest and most advanced aerospace manufacturers on the planet, Boeing has a long history of creating swift, safe, and spacious freighters. Its latest cargo planes are no exception. Among the planes that have made air freight news headlines are:
The

747-8F

- With a payload of 137.7 metric tons or 303,700 pounds, this freighter has the greatest cargo carrying capacity not only of Boeing's planes, but of any freighter currently in production. This high capacity is due in large part to the plane's unique nose door, which makes it easier to load outsized cargo while reducing turnaround times. The 747 also has temperature control zones, which facilitate the shipping of items that are highly perishable. With a range of 4,120 nautical miles, this freighter can handle the vast majority of modern air shipping jobs.
The

777F

- With the ability to hold 102,010 kilograms or 224,900 pounds, the

777F

doesn

't have quite the carrying capacity of its 747 counterpart, but it makes up for this with a far greater operational range. This plane can travel 4,970 nautical miles, allowing it to complete even the most distant shipping jobs with ease. It also offers lower trip costs than that of any other freighter of this size.
The

767F

- Able to travel 3,255 nautical miles and carry 52,480 kilograms or 115,700 pounds of cargo, this plane is suitable for shorter, lighter deliveries. The freighter is notable for its enhanced payload configuration, which allows carriers to load and unload cargo more efficiently than they can with other freighters. This provides the highest standards in operational efficiency of the modern air freight industry.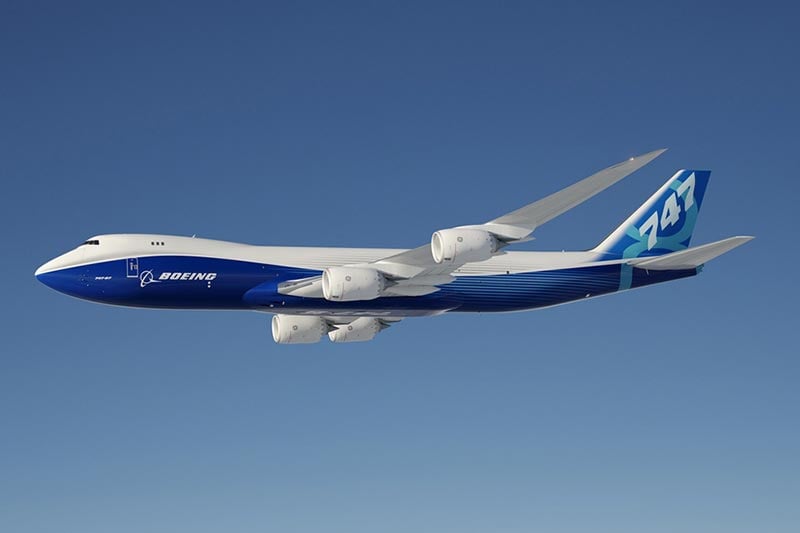 Besides these three planes, Boeing has unveiled a number of other planes to achieve more specific delivery purposes. The 767-300BCF, for example, is designed to serve regional markets, with a range of 3,300 nautical miles and 51,930 kilograms or 114,500 pounds of cargo capacity. Likewise, the 737-800BCF can travel a full 3,700 kilometers with a payload of 21,500 kilograms.
Persistent Plane Production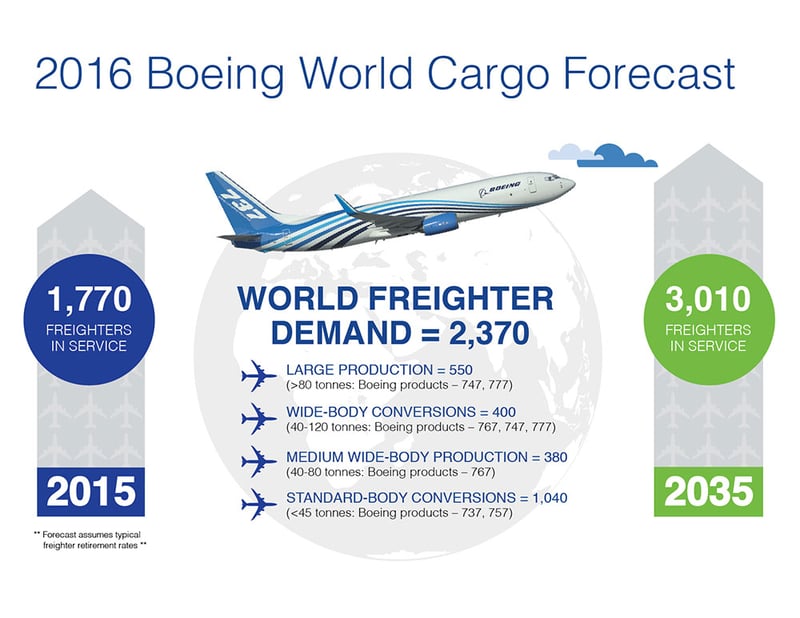 In addition to the quality of its planes, Boeing makes air cargo news headlines for the sheer number of them that it manufactures. In 2015, there were 1,770 Boeing freighters in service all over the world. It plans to increase this number to 3,010 planes by 2035, producing more than enough freighters to make up for retirements in the intervening time. In meeting this and other ambitious production goals, the company has set a number of records, including:
Large Production- Boeing produced 550 planes over 80 metric tons, which include 747 cargo planes as well as 777 models.
Wide Body Conversions- Involving planes ranging from from 40 to 120 metric tons, namely the 767, 747, and 777, Boeing has completed 400 conversions.
Medium Wide-Body Production- Referring to planes ranging from 40 to 80 metric tons, such as the 767, Boeing has produced 380 of these vehicles.
Standard-Body Conversions- Boeing has completed 1,040 of these conversions, which involve products weighing less than 45 metric tons, like the 737 and the 757.
AirFreight.com keeps track of Boeing's freighter production and all other air cargo industry developments. For more information, visit our website today.
All images © Boeing.com