Airfreight.com provides the same outstanding performance, coordinated logistics, tracking and customer service for its ground transportation as it does for its air cargo services. Let your emergency situation become our business as usual. We handle your freight's entire trip from pickup to takeoff, landing and delivery to its final destination. Our expeditors are each extremely well-versed in providing customized, efficient, overnight freight solutions paired with the support and tracking throughout the shipping process.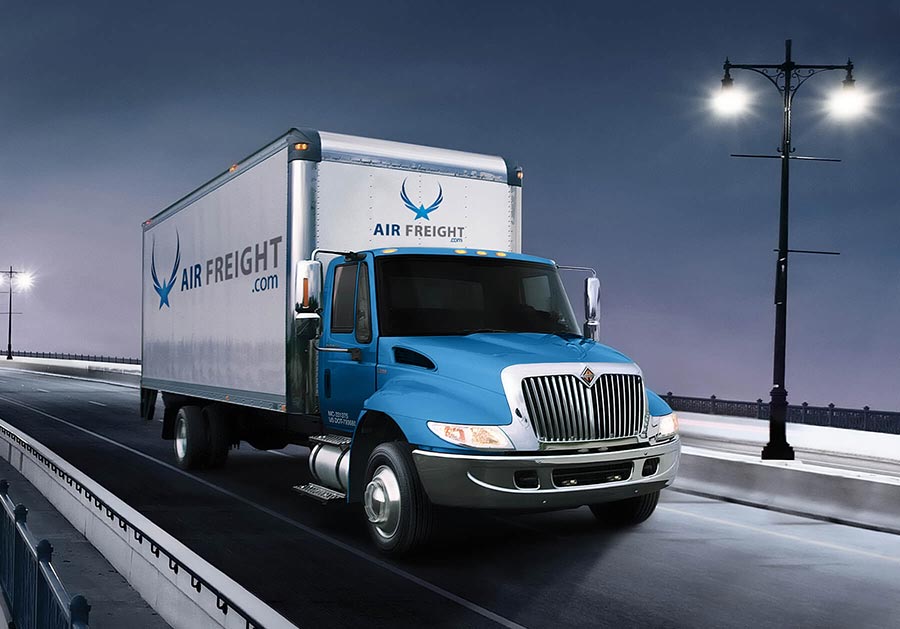 In any delivery situation, having options and executing to a plan are critical to logistical success. That's why ground cargo service by Airfreight.com is your go-to solution when it absolutely has to be there tomorrow, on time. Delivered by road, on a right-sized, cost effective, dedicated vehicle with a two-person driving team – your shipment is the only freight onboard. With no transfers or cross docking, transit time is reduced, the potential for damage decreases, and your overnight freight is tracked by satellite all the way to your customer's door, dock or deck.
We have over 50,000 expedited freight vehicles ready to go nationwide, from Sprinter vans to full-sized tractor trailers. Vehicle freight payload capacities can range anywhere from 2,000 to 44,000 pounds, with decks, doors and beds to accommodate almost any sized freight. All utilize the latest logistics technology to maintain speed and efficiency while using satellite tracking technology to ensure you know the status of your delivery every step of the way. With real-time delivery updates and 24-hour customer support and service, you know your shipment will get there – when and where you need it.
For those desperately needed back orders, orders that shipped short, or parts needed for emergency repairs, there are many overnight services to choose from, including:
Overnight first available
Overnight early a.m.
Overnight by 12:00 p.m.
Standard overnight by 5:00 p.m.
If overnight by ground is not possible, the driver will safely deliver it to the nearest airport for an overnight air cargo flight to a waiting vehicle at the other end. If there is not a commercial flight that meets your schedule, your agent can charter an airplane where your freight is the only piece of cargo onboard.
Every day, we work with many different transportation specialists who are able to move any sized freight safely and securely. We're not restricted by weight limitations and can deliver your machinery, equipment and parts across the country, state or to the other side of the country. We will pick-up, hold or deliver your freight according to your specific scheduling requirements while helping you meet critical deadlines.
Getting it there same day is no good if it is damaged, so we only use experienced personnel with the right equipment, every time. Whether it is a regular shipment across town, across the country, or an emergency expedite request burning a hole in your production schedule, Airfreight.com is your solution on the ground and in the clouds.