Welcome back to the AirFreight.com blog as we again take our regular review of some of the recent news and stories that have generated interest within the air freight/air cargo industry. There have been a number of industry developments over the last month and each can help to provide a fuller understanding of the overall state of the air freight industry today. Within each summary piece, you can click on the blue link(s) to read more.
The NTSB have reached a conclusion regarding the dreadful air cargo crash in 2013 in Afghanistan and as many expected shifting freight due to improper restraints and configuration was deemed to be the root cause causing the aircraft to stall during its initial climb. More details at the Columbus Dispatch.
Air Freight security looks set to improve further with news that The International Air Cargo Association has welcomed the World Customs Organization's adoption of advance cargo information data, this with the purpose of improving the industry's risk profile via an additional layer of security. Far more information is here at JOC.com.

Qatar Airways continue their air freight growth in the strong Middle Eastern and global market with the addition of their first Boeing 747 freighter to their current fleet. The craft joins Qatar's ranks next month adding 112.5 tonnes of extra capacity, read more at aircargonews.net.

Austin International Airport AUS adds a prestigious European service beginning next June with German Based Condor (Condor Flugdienst GMBH) adding twice-weekly service to and from Frankfurt. Frankfurt is a major European hub and this could provide interesting options for business in the Austin region.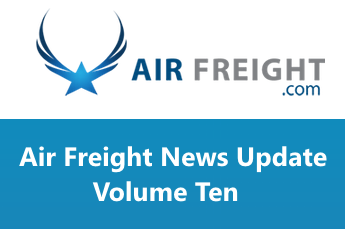 In Canada, First Air, a major air carrier in Nunavut, Nunavik, and the Northwest Territories, has extended its partnership with Cargojet into a 10-year agreement. Both carriers have confirmed the news and you can read more at Nunatsiaqonline.com.
It's good to see that the air cargo antitrust investigations have made significant inroads in changing the prospect of an organized cartel dominating international air cargo pricing. Almost a decade after the study period concluded in 2006 cases are still outstanding with a number of carriers including Air China, Air India, Air New Zealand, Atlas Air and Polar Air Cargo. The latest information is available at the Loadstar website.
Once more we thank you for taking the time to read and share the update, please get in touch via the comments section below and via our Twitter account or Facebook page. You can also read volumes one, two, three, four, five, six, seven, eight and nine of Air Freight News updates to stay current.