Welcome back to the AirFreight.com blog for our regular look at some of the recent news stories and articles that are trending within the air freight and air cargo industry recently. It's been three weeks since we took our last look at some of the other reports, data and opinions that help forge a better understanding of the overall health of the air freight industry today. Within each summary piece you can click on the blue link(s) to read more.
WestJet Cargo will be pleased to have been awarded the title of Best Air Cargo Provider 2014 at the innaugural Cargo Logistics Canada Awards of Excellence which took place recently in Vancouver. The 2016 event is already scheduled for Montreal and you can read more about the story over at finchannel.com
Los Angeles International Airport (LAX) began 2015 with outstanding air freight results that position the airport for a very healthy year in air cargo results. January saw a stunning 12.4% increase in year-over-year air cargo tonnage which almost certainly saw the West Coast port dispute contribute to the total volume. More details available at the LA Business Journal site.
Large airline mergers are nothing new and the same approach is now more frequently being taken up by the cargo divisions of major global carriers. The latest example sees Finnair look to expand their global network especially to North America and Africa by partnering with IAG cargo - itself a hybrid of British Airways and Iberia's cargo divisions. Read more at Air Cargo World.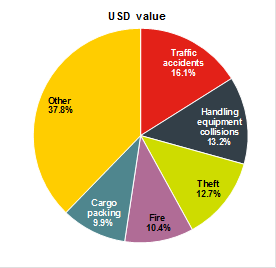 Air Cargo insurance claims and logistics claims in general are another interesting topic and a new study published on Air Cargo World digs a little deeper into more than four years of analysis. Theft and fire are both unfortunately well represented but heading the list are traffic accidents, totaling $68 million in claims over the past five years (see chart).
Air Freight volumes along the West Coast are seeing benefits due to the gradual resumption of full operations at all ports including those at Long Beach & Los Angeles. A very informative story about the size of the existing backlog and how it will take some time to clear, plus the huge impact this is having on Los Angeles air freight volumes. Read the full story at the Pasadena Star.
Encouraging results show that US-NAFTA freight movement totals nearly reached $100 billion in December 2014 and four of the five transportation modes — truck, rail, air and pipeline — showed increases versus December 2013. Total freight volume increased by 5.4% with Air Freight up by 6.3%, only shipping by sea decreased.
That should cover it for this edition but if you have stories you'd like to share or comments about any of these please get in touch via the comments section below, our Twitter account or Facebook page. You can also read volumes one, two, three, four, five, and six of Air Freight News updates to stay current.