AirFreight.com provides the same outstanding performance, coordinated logistics, tracking and customer service for its ground transportation broker services as it does for itsts same day air cargo broker services. The trucking companies in our carrier network have over 50,000 traceable express delivery vehicles ready to go nationwide, thus, going by ground doesn't mean going slow or flying blind. From cargo and Sprinter vans to large straight trucks, a customized ground solution with dedicated trucking for your freight is just a call or click away.

We arrange same-day ground services to destinations throughout North America. This includes finding and selecting trucking companies specializing in palletized and containerized product, bulk liquid management, or temperature-controlled distribution. The trucking companies also have special equipment available to provide you expedited trucking with a full range of commodity transport options, including: flat beds, refrigerated units, roller beds and step decks. Vehicle freight payload capacities can range anywhere from 2,000 to 44,000 pounds, with decks, doors and beds to accommodate almost any sized freight.
Two factors determine if same-day delivery by ground transportation will work for you: how early you call, and how far the shipment is going. If these align, your agent will arrange for either a courier company to take your freight, or a trucking company with a two-man driver team ready for a non-stop drive. Your goods will be the only cargo on the truck. You won't have to worry about time-consuming stops to pick up and discharge other shipments, not when every minute counts.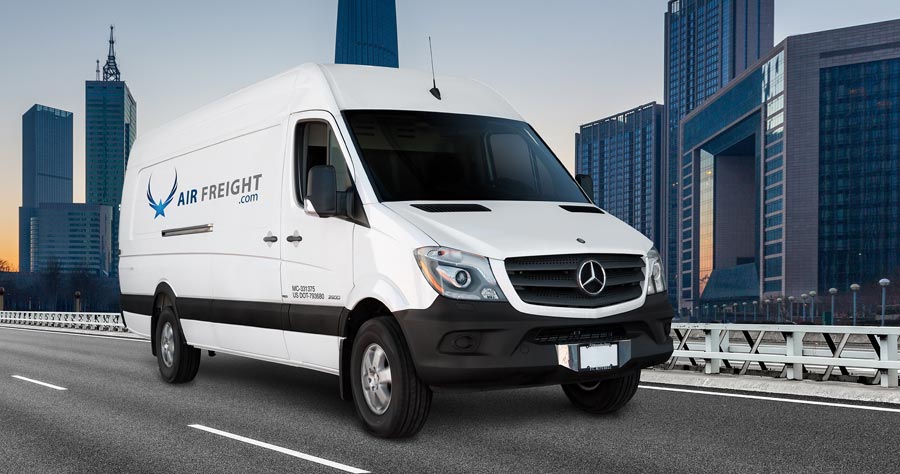 For same-day ground service, Expedited Sprinter vans are a faster option than box trucks and semis over shorter distances - especially less than 500 miles for loads under 3000lbs. The Sprinter van shipments arranged by Airfreight.com are for exclusive use, so your freight is the only shipment on the truck from pickup to delivery. It is loaded once and driven directly to its destination. Expedited Sprinter vans are easier to maneuver than larger trucks in dense urban or high traffic areas. This nimbleness contributes to their overall delivery speed, getting your freight there faster.
Expedited Sprinter vans are one of the most cost-effective ways of shipping direct via ground, up to 66 percent less than box trucks, semis and air freight! Since Sprinter vans are smaller and lighter than standard dock-high straight trucks, they cost less to operate per mile which means lower freight charges for you.
Expedited Sprinter van service is comparable to air freight delivery times over certain distances, but at a fraction of the cost. When it has to get there fast without breaking the bottom line, expedited Sprinter vans are an excellent option.