Even more so than the exceptional broker services that we offer, one of our primary goals here at AirFreight.com is and will always be to put your mind at ease. We understand how stressful emergency shipping situations can be - but the key thing for you to understand is that it certainly doesn't have to be that way any longer, especially not with the right partner by your side.
Case in point: from the moment you first make contact with us and let us know what you're shipping, you'll be assigned a dedicated agent who will work directly with you at all points in the process. This person will be there at any time of the day or night (even on weekends and holidays!) to answer any questions or address any concerns that you might have. You're talking about an individual who not only has years of experience in freight brokering, but who is also incredibly well-versed in businesses just like yours.
Your dedicated agent will work with you to make sure you understand all the options that are available to you, allowing you to make the best decisions possible at all times. If your shipment's journey cannot be completed entirely via ground transportation (as is sometimes the case when the shipping distances are too far or the timeframe is too compressed), don't worry - they'll immediately get to work on arranging for your shipment to be transported via an air freight carrier to make sure your items get where they need to go on-time.
In a lot of situations, we'll be able to schedule you space on the next flight out at your local airport. We will find a trucking company to dispatch a team of truckers right to your location, load all of your items onto the truck and make sure it gets to the airport before that flight takes off. In the event that the next flight out isn't leaving within your schedule (or if there isn't actually space available to meet your needs), your dedicated agent will be able to arrange for you to charter a plane to call your very own.
Once that plane touches down at its destination airport, Airfreight.com will arrange for another trucking company to dispatch a team of truckers who will be waiting on the other side to load your shipment back onto the right type of specialty vehicle so that it can be delivered safely and securely to the people who really need it.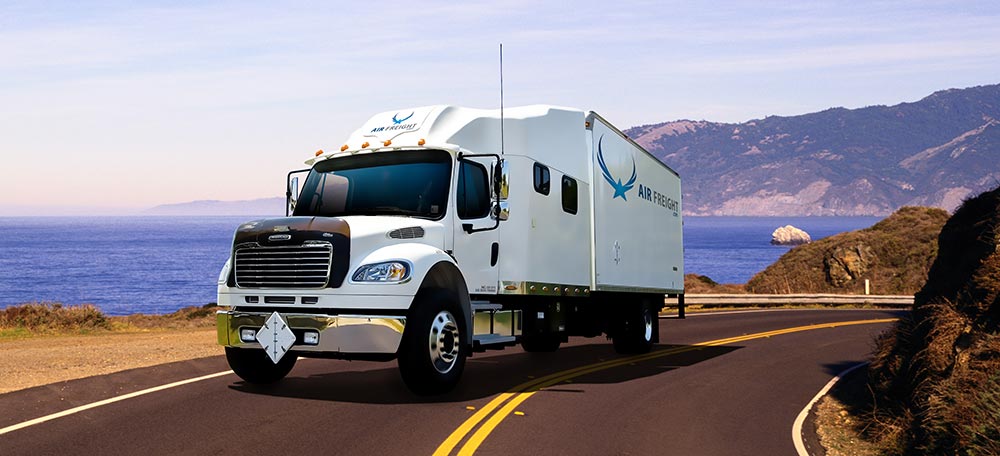 Along the same lines, your dedicated agent will always keep you in-the-loop at all times - we refuse to keep you guessing at ANY point in your shipment's journey. Thanks to the state-of-the-art satellite tracking technology we employ, we'll always know exactly where your shipment is - whether it goes by ground, by air or some combination of the two doesn't actually matter.
Your dedicated agent will proactively reach out to you with updates to make sure you're always aware of exactly what is going on. If some type of unexpected situation crops up that stands to get in the way of your express trucking goals - like a bad car accident, horrible traffic or even particularly tricky weather patterns - your agent will know about it immediately. They'll be able to reach out to the trucking company which will find a new, optimized route that mitigates risk from these issues altogether.