As companies across the country know only too well the impact of the West Coast ports slowdown has had a dramatic knock-on effect in terms of keeping stock and supplies at the levels needed to operate their businesses at maximum efficiency. As freight continues to back up at ports the urgent need for air freight and air charter services becomes the only viable option for many companies as they try and make up for delayed shipments. While things might at last be heading towards a showdown with dockworkers the ongoing impact to supply chains is set to last weeks or even months for many reliant on cargo from Asia.
Labor negotiations aren't at a stalemate but the federally mediated talks are taking longer than planned and much like the cargo in question facing delays. The entire act of loading and unloading cargo vessels is set to be suspended again this weekend and include Monday due to the Presidents Day Holiday on February 16.
The backlog in cargo will not be tackled again then until next Tuesday further increasing the demand for last minute air freight services to allow cargo to reach final destinations across the country in as short a period of time as possible. The ports involved in the dispute handle in excess of 70% of all Asian imports into the United States and meanwhile the war of words between parties on both sides of the dispute are becoming more inflamed with The International Longshore and Warehouse Union stating that shippers were engaging in brinkmanship.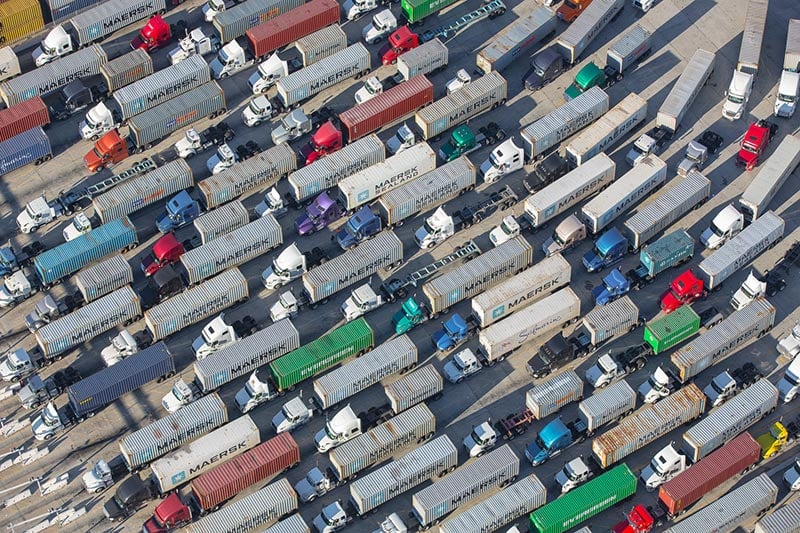 The media and other voices continue to join the fray, growing calls for outside intervention to settle the protracted dispute as soon as possible on the grounds that the economic effects continue to worsen. One controversial opinion came from Tim Worstall via Forbes.com who suggested that continued trouble might only be solved by replicating the approach used by Ronald Reagan to resolve the air traffic controllers dispute in 1981.
Let's hope it doesn't come to that for all involved but as the weeks turn into months the concerns will only grow. Simultaneously, trying to measure the true costs to thousands of companies and in particular retailers is almost impossible to do accurately but it is clear that the economy doesn't need the equivalent of a brake pad rubbing against one of its wheels on an ongoing basis.
(the amazing photograph of trucks waiting at Long Beach on today's post is courtesy of http://www.mpkelley.com/)