A mixed but good set of numbers this week from the International Air Transport Association confirm that overall air freight and indeed air travel numbers were greatly improved for October versus last year but air freight profitability is currently lagging behind in global terms. Overall air cargo tonnage trends remain in the ascendancy and continuing capacity issues remain in a number of markets as we edge nearer to 2015. The IATA optimism for next year that we wrote about last month will not be weakened by this latest set of data.
The October year-on-year numbers from IATA reveal that air freight tonnage increased by a substantial 5.4% over 2013 and continuing a trend seen this year these gains overshadowed capacity increases which measured just 4.4% growth. Encouragingly the total volume is now at the strongest levels seen since 2010 and further solidify the confident predictions for a healthy 2015 within the industry.
Around the world regional numbers are quite similar to a month ago with market share still dominated by Asia (currently at 40%) followed by Europe at 25%. North America rests at 15% for October with tonnage in the Middle East continuing to close the gap for third place. Positive growth in the Asian market offset some losses seen in Europe which holds some pronounced economic fears now bearing down on EU nations whilst North American volume was generally stable by comparison.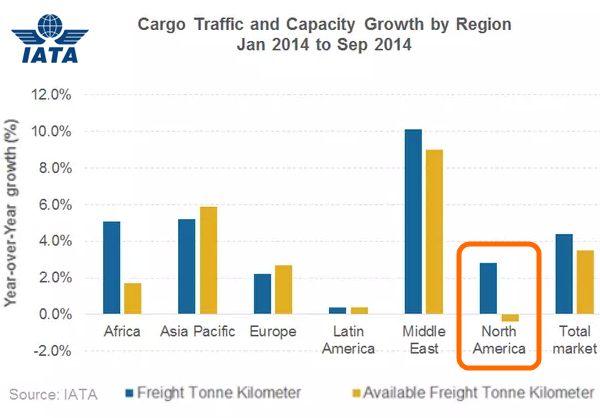 Air freight load factors globally still measure lower due to capacity increases however this trend is not mirrored in North America as we're the only region where capacity increases have not been seen so far this year demonstrated by the graphic above. The numbers are in stark contrast to other regions and will help to secure profitability in a market that hasn't seen the same net growth as some others. The forthcoming monthly reports from IATA will be watched with a keen eye from observers to see if tonnage capacity for air freight within this market begins to match the steady gains in demand observed this year.
As a related piece of information; the overall airline profitability in the North American market is the healthiest amongst global regions studied by IATA with currency devaluation having a significant and negative impact in what remains very busy Asian market. Confidence is reasonably high for next year according to IATA with 62% of respondents expecting an increase in air cargo tonnage for 2015. A similar percentage of 66% anticipate that yield will remain consistent next year for air freight primarily underscored by softer crude oil prices with little change in sight.