It might make you feel old but did you realize that this coming June marks the 20th anniversary of the first Boeing 777 being introduced into service, initially within the fleet of United Airlines? I remember taking a trip to London on a 777 within a year of that introduction and it seemed like a glimpse into the future at time compared with the other long range wide body jets operating at that time.
The 777 Freighter (777F) has a much shorter history though, first being introduced to the global air freight market with Air France at the beginning of 2009 and this year will see the delivery of the 100th 777 Freighter to the market. Orders are up recently in keeping with a solid air cargo industry and 2015 looks like being a banner year for the plane.
Last week Boeing announced a single order for six of the 777F to a single, as yet unnamed, customer. This represents a huge contract and follows hot on the heels of a recent order being completed by Qatar Airways for four of the same aircraft in addition to the carrier holding an option for an additional four of the same plane. A remarkably large investment from Qatar Airways and one that is clearly structured around the bouyant and growing air freight market in the Middle East.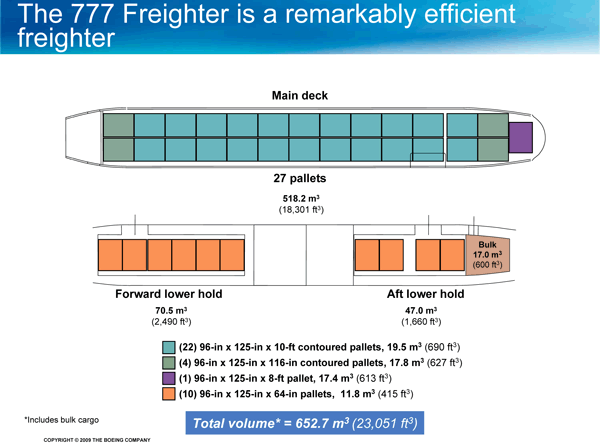 Orders such as these are crucial for Boeing as the 777F looks to remain their leading long range freighter for perhaps another five years until the planned Boeing 777X variation comes on line with regular production. The 777X is scheduled to see a launch in 2020 and will be a longer variation of aircraft with new wings and engines and will be slightly lighter than the current model.
In a coincidence of timing I noted as I write that according to the Miami Herald Boeing have confirmed moving part of the work, specifically the wing and tail assembly for the new model to St. Louis over the coming years at a new facility just north of the city adding some 700 new jobs. The brand new 367,000 square foot facility is anticipated to be completed in 2016 with work on the Boeing 777X beginning in 2017 at the location.