As the economy continues to improve it's been very interesting to view the annual profit statements of the major passenger airlines in the United States for 2014. Especially interesting is the gradual recovery of air freight tonnage domestically for most of the carriers although international air cargo remains the primary source of air cargo revenue for many of the airlines. Even so the return to healthy profitability overall has not just been a consequence of a stronger economy but also other major factors.
Mergers and Acquisitions - If you cast your mind back a decade or so the profile of passenger carriers has changed dramatically over the intervening ten years. To highlight some of the biggest changes, America West merged with US Airways in 2007 and then later with American Airlines. Northwest Airlines was absorbed by Delta in 2010 to create the largest airline in the world, United and Continental merged and even Southwest Airlines acquired Air Tran. Essentially we've gone from ten large national carriers down to five which has forever changed the market, how it operates and where it is based.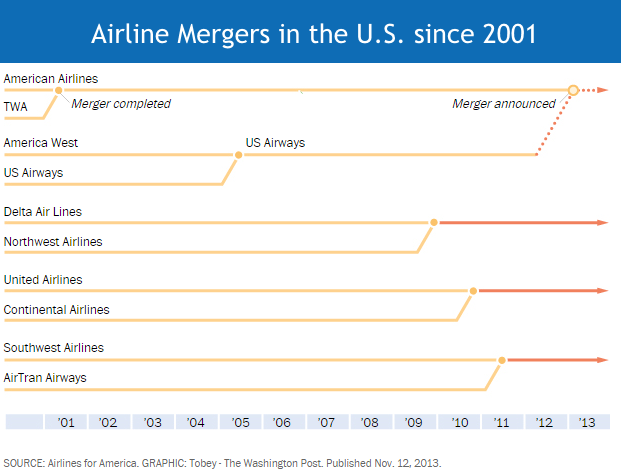 Of course there have been issues during the transitions but now at last the market seems to be settling down which has led to more efficient routing models and operations with far less duplicate/redundant or unprofitable routes. For the consumer it has seen airfares steadily increasing but for air cargo has it also seen improved domestic efficiency.
In Europe most of the major carriers see anywhere between twenty and forty percent of their revenues come from air freight while in the U.S. that number has traditionally been around five to ten percent. There are a number of reasons for this not least of which is the fact that more Americans fly every year per capita than Europeans. This is in part due to the size of the country and in part due to Europe having a strong high speed rail network. Over 746 million passengers flew in the United States in 2014 according to The World Bank data.
However the gap in cargo tonnage is growing smaller due to a more robust economy and more U.S. carriers carrying additional air freight tonnage in recent years leading to a growing reliance on air cargo for revenues. Factor in the huge contribution of freight only airlines in North America headed up by Fedex and UPS who rank number one and two globally respectively for cargo and there is no shortage of options for domestic air freight.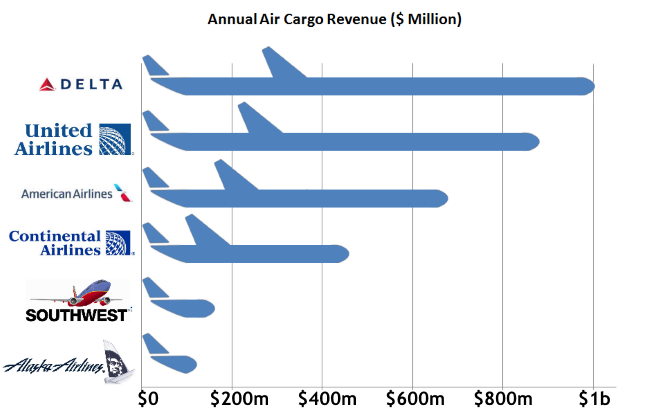 If you ever wondered which passenger airlines in the U.S. are also leading the way for annual air freight revenue the chart above will be of interest. Delta are quite dominant after the Northwest acquisition leading to extensive market coverage for transatlantic, transpacific and South American routes, although you could also combine the results for United and Continental.