Throughout the history of air freight services. transporting over-sized cargo has always been a concern that sometimes can't be overcome. Based on dimensions alone there are many types of cargo that have to be forwarded via road, rail or ship. However when you are the second largest commercial aircraft manufacturer in the world and you build various parts of your planes in different countries this can become even more of an obstacle.
That's the situation which has been overcome by the Airbus Group, who as an international consortium faced very unique manufacturing challenges. All of this due to the fact that the aircraft maker is an alliance of British, French, German, and Spanish aerospace companies which form a single enterprise. The result of this setup is that in general each nation constructs a different piece of the aircraft. If that sounds confusing it's because it is, typically wings and landing gear are from the UK, then a German made fuselage, France handles the nose and Spain the tail section. Final assembly then takes place in either France, Germany or Spain.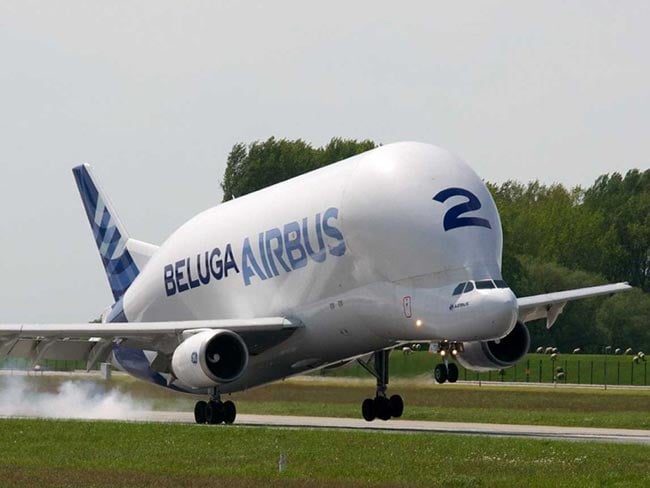 Such logistical challenges mean that a remarkable amount of transportation is involved during the construction process and few things are harder to ship than an aircraft fuselage or wings, in fact it seemed to present the ultimate 'ship in a bottle' challenge to Airbus. Initially sections were shipped via road and sea until the company developed an aircraft large enough to transport such mammoth cargo.
The result was the Airbus' A350 XWB Super Transporter which is affectionately now known as the Beluga due of course to its appearance. The plane ultimately passed certification in 1995 and more have been built since, today a total of five Belugas are in regular operation across Europe and occasionally further afield with the primary function being the remarkable transportation of partially completed Airbus aircraft from manufacturing to final assembly locations.
The Beluga is a certainly a strange mix of peculiar and impressive and if the design looks somewhat familiar it is because the lower fuselage is essentially the Airbus A300 but topped off with the giant bubble shaped cargo extension with allows it to carry air freight far beyond regular dimensions. It's become far more than a novelty aircraft with the fleet of five collectively logging about sixty flights per week. To date the model has also been used for a number of very unique air charter assignments also.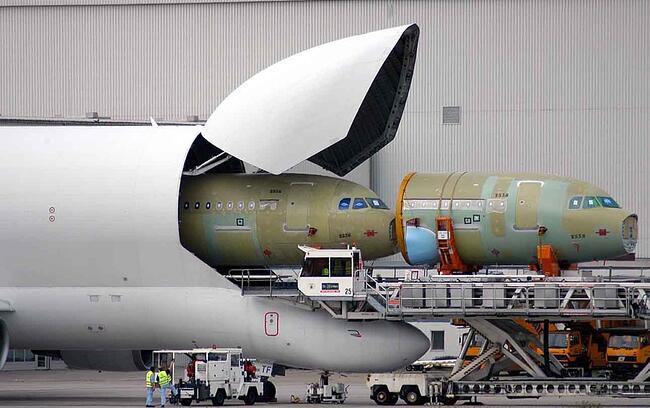 Despite its cavernous size the Beluga was designed to have essentially the same payload restrictions as the A300 which means it is ideal for large and light air freight but couldn't be filled to the gills with heavy pallets of air cargo.
Airbus have also announced that the next decade will see the introduction of an even larger air freighter than this one. Plans are to develop a similar type of plane to be housed on the A330 frame which they hope will be operational within five years or so. If all goes to plan it will fully replace the Beluga by the middle of the next decade.
——————————————————————————————————————————————
AirFreight.com led by Dan Boaz operates as a global provider of premium freight services in a best-in-class segment of the expedited transportation industry.
Our services include: Air Freight, Air Cargo, Air Charter, Expedited Ground Transport and Just in Time Delivery for the Time Critical Shipping Business. Contact us today to have an Air Freight expert assist you or complete our freight quote form to get started.