Reinforcing the signs that the air freight market is in a growth cycle comes news that DHL are moving forward with the next phase of expansion plans for their central operations at Cincinnati/Northern Kentucky International Airport. The expansion and revitalization plans have been ongoing since 2008 and the newest steps are now getting started.
The new phase involves an investment in excess of $100 million to provide more warehouse space, new equipment to boost capacity and efficiencies along with some sixteen new gates for aircraft to add new air freight routes to the DHL network. DHL anticipate that the growth at the airport will add as many as 200 new jobs by the end of the year to support the new expansions.
Stephen Fenwick, CEO, Americas for DHL Express, said;
"This new $108 million investment is a clear sign of our commitment to the Americas, of our expectations for strong growth and of our dedication to the regional Northern Kentucky and Cincinnati economy. As our business has grown here, we are proud to have steadily added new jobs at our CVG hub, the backbone of our Americas network. The continued growth we have seen also benefits our partners at the airport as well as businesses in the surrounding communities that support CVG."
Who is AirFreight.com? Learn more about us and how our expertise can be to your advantage.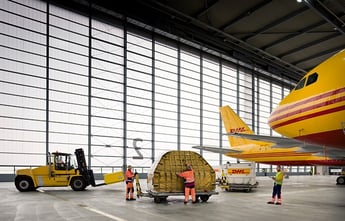 The long-term expansion plan has seen investment of almost $300 million at the North American air freight hub and the company now employs almost 2,500 people in the area at its CVG facilities.
Portions of this story courtesy of the Cincinnati Business Courier. Image courtesy of DHL Flickr.
If you're interested in finding out more information about how we're prepared to leverage our expertise to your advantage, or if you're just eager to discuss the specifics of your own situation with someone in a bit more detail, please don't delay to fill out this form to get an AirFreight.com quote.